I. Am. Caving.
Suddenly, I am obsessed with shoes. Pumps. Boots. Espadrilles. I shouldn't say suddenly because I looked at a Shoe Calendar all year, each day allotted to a work of art for the feet.
Imelda, I knew her well.
But now that I've invested in some ball of the foot protectors, I'm getting susceptible. Right now, suede shoes are calling me, and for Valentine's Day, hearts.
These Charlotte Olympia's warmed my heart, though not my pocket book at $1, 250:
These Jeffrey Campbell's (originally $250, now $88) are delightfully ridiculous…and theatrical:

Vivienne Westwood, $278 or $90 on Zappos:
These two by Modcloth's are hearty. Hmm, might have to investigate Irregular Choice, the U.K. shoemaker of the dwarf. (Yes! The new Moschino?)
Betsey Johnson, hearts? Of course, only $110:
Sophia Webster's sock and shoe at $838 – the exact price of my rent:
Moschino's sailor hearts are always fun:
Satin-sassy chic Kate Spade's at Neiman Marcus, $45o, are super sexy:
Jeffrey Campbell went off-the-deep end with broken heart heels:
Gotta love a red clog with a heart!
Awww, I might invest in these Danish Lola Ramona's. My mom had these beloved red clogs from Denmark. When I found a peep toe pair in Crossroads, I bought them. And when I was in Sweden I bought a red tie shoe with a wooden heel (which I love.) Might be too much repetition and decision making when the day of the Red Shoe comes. (Update: Dang! Sold out!)
And finally, these simple, affordable Seychelles (hmm, questionable at $95 and the muted color rather pales with all the others). Camel with metallic gold. Still, they might have to come home to me, or have I lost my heart completely?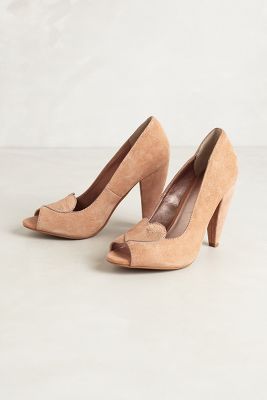 So let your heart beat through your feet this week!
This week, let your heart beat in your feet!
This week, let your heart beat in your feet!
UPDATE: New favorite designer, Copenhagen's Lola Ramona. Insane.